Brave: The browser that respects your privacy
I recently learned that Google gives away its users' data about 347 times per day.
That's what happened in the first semester of 2018, according to the Google Transparency Report.
It gave away users' data 57868 times in a 6-month period. That's 347 times a day.
And the figure is only increasing: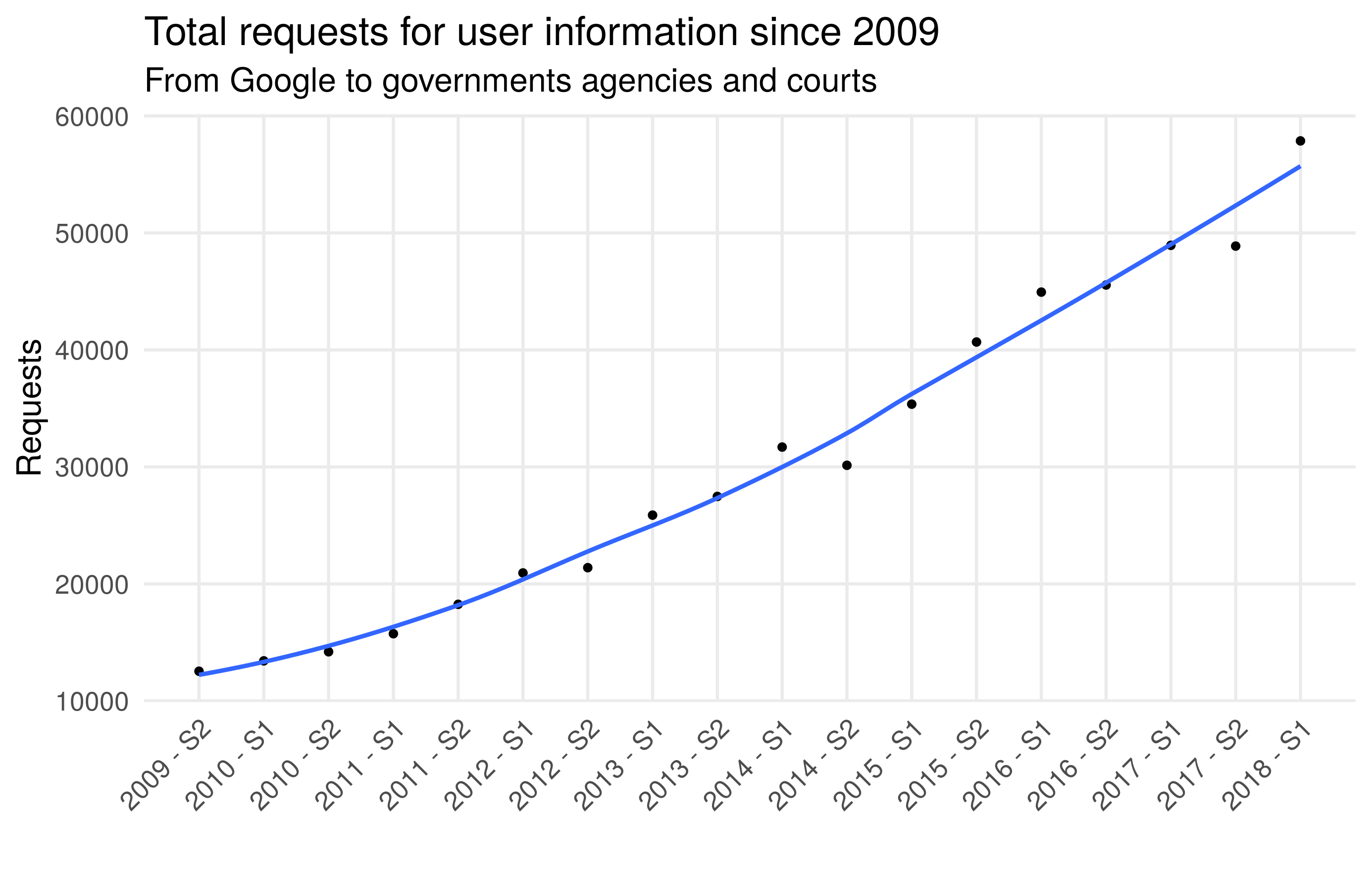 This lead me to a rabbit hole about privacy concerns regarding Google.
It's kind of weird since I knew about this.
I knew companies were not to be trusted with my data. I knew that pretty much every day, there are security breaches.

Source: https://www.breachlevelindex.com/data-breach-library
But:
I thought I could not get out of the Google ecosystem.
I thought there were no real alternatives.
This changed when I looked at the above figure.
This showed me that all the talk about data privacy was actually concrete.
I could understand data breaches.
But this is different.
We trust companies to keep our data secured in a vault.
And they're handing it to governments.
So I decided to seriously look for alternatives.
And because it's not an easy shift to make, I have decided to write about it, and share the alternatives I find, why I think they're better, and how to adopt them.
I don't believe you can quit Google in one day.
You can do it incrementally.
The first step, today, is to stop using Google Chrome.
1. What's wrong with Google Chrome?
There are four reasons you should not use Google Chrome:
Avoid trackers
There are trackers all over the internet.
Think of Obi-Wan Kenobi when he's tracking Jango Fett from Kamino to Geonosis.
He knew exactly where Jango went and that's how he discovered the conspiracy from Count Dooku and the Confederacy of Independent Systems.
Today, pretty much every website has trackers.
If I visit https://edition.cnn.com/, I notice there are 24 trackers. From Google, Bing, Amazon, Twitter, and many publishers such as bouncex.
This tracker is just an invisible piece of code, like for example:
If you visit this publisher's website, you'll notice they write things like:
We Know Your Users.
Our proprietary tech identifies 40-70% of your anonymous visitors across all of their devices and sessions. And once we know who people are…
How can they identify visitors that are anonymous?
Because you have trackers on your spaceship. Like Jango.
This spaceship is your browser.
Let's take a concrete example.
Facebook.
Of course, they want your data. How do they get it?
With your activity on the Facebook website.
But not only.
You might think… Yea sometimes there are social plugins with Facebook integrated.
Right.
But that's not all.
Many websites incorporate a small piece of code that's totally invisible to you.
It's called a Facebook Pixel.
Anyone can create a Facebook Pixel. Look, I created one:
All I have to do is insert it on a page, and it automatically tracks all my visitors.
Every time you land on a website that has this piece of code, Facebook records it. They know your browsing history and they can track you all over the internet.
Now, think of Jango Fett and Count Dooku.
What if one day you think your government is corrupted?
What if one day you want to create a Confederacy of Independent System?
Would you like Facebook to give away your data to the corrupted government just because they asked for it?
Probably not.
If you're logged into Facebook with the same browser you use to visit the Internet, they know exactly who you are and the majority of websites you visit.
By default, trackers are allowed on Google Chrome.
Avoid ads
While I don't believe we should completely eradicate ads, they're sometimes a real pain.
Especially on your phone.
Have you ever tried to read the news on your smartphone?
You think you landed on a serious website…
Until a HUGE popup appears from nowhere!
WORSE, you have to wait 5 seconds to be able to close it!
So annoying…
And once you read the articles, you keep being interrupted by video ads running by themselves..
..and sponsored click-bait content you don't care about.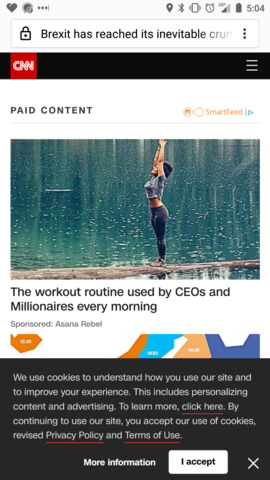 Of course, you can use third-party plugins like Adblock on your browser desktop.
But on your smartphone? There are options, but they're limited.
Faster browsing
Did you know that if you completely remove ads and trackers, pages are WAY faster to load?
On average, they're 2x faster on desktop..
and EIGHT TIMES faster on mobile!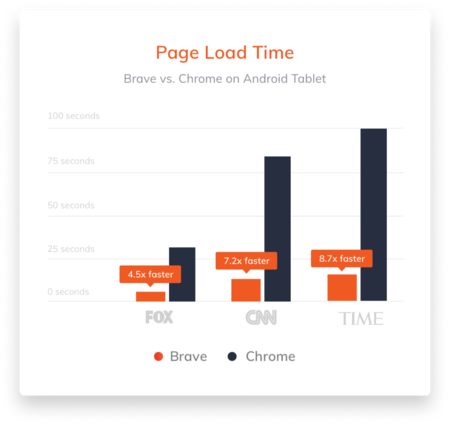 Source: https://brave.com/
That's HUGE!
And that means a lot of mobile data going into ads.
Google doesn't need a tracker
They have you in their browser.
What happens is they will look at your entire history, save it, and link it to your Google account.
Because you have to link Google Chrome to your Google account if you ever need a service from them.
It's easy for them to know everything about you.
Except if you use an alternative browser (or at least that's a start).
2. Introducing… Brave browser!
I tried in the past to use a different browser.
I tried Firefox.
I tried Opera.
I tried Edg… kidding :D
But I really love all the plugins from Chrome.
But I found another one.
Brave Browser: A secure, fast, and private web browser.
Brave is based on Chromium
Chromium is an open source project developed by Google.
That might sound ironic, but Google actually does a lot of GOOD things.
Them tracking you and using your data is only their business model, and I believe anyone should be able to choose to be part of it or not.
And then if they give away your data to governments, that's because they're forced to do it by the law.
It's not an evil company.
But back to Chromium.
Google Chrome is a proprietary software based on open-source Chromium.
Brave Browser is an open-source software based on open-source Chromium.
The source code is here: https://github.com/brave/brave-browser
Because they're both based on Chromium, they look very similar.
And you can use the same plugins on both.
Brave blocks trackers by default
If before entering a website, you were asked:
Do you want your visit to be tracked and recorded by Facebook?
What would you say?
I'd say no.
But you're not being asked.
That would be super annoying if you had to be prompted every time you land on a website.
The default reply on most browsers is Yes.
The default reply on Brave browser is No.
I prefer this behavior.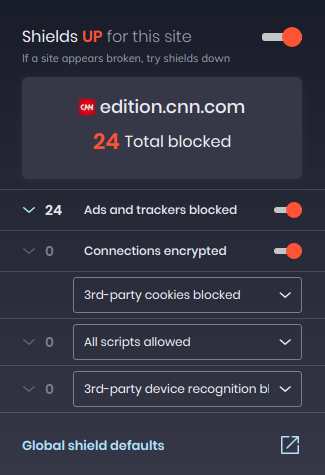 And I still have the choice to turn it on.
Brave blocks ads by default
I've been using Adblock for a long time.
So this isn't a big change for me.
But Brave just makes it easy by blocking ads by default.
Plus, they have a business model related to ads that is pretty interesting.
More on that later.
Brave works on Desktop and Mobile
You can't install Adblock as a plugin on your android Chrome browser.
You have to rely on weird 3rd-party plugins or "no ads browsers" that are barely functional.
Not anymore.
Like I said before, Brave incorporates these functionalities automatically.
On desktop AND mobile.
Brave is faster
The implementation of Brave is nothing groundbreaking.
They're not loading websites much faster than other browsers.
But…
Because the default behavior is to NOT load the ads and trackers.
They're 2 to 8 times faster.
3. Brave's takes on ads
Ads are not inherently bad.
They allow content creators to make a living by creating content.
They allow many internet services to be free.
But when publishers track you all over the internet, know pretty much everything about you, and then leak your data, or give it away to governments, it becomes annoying.
Brave created a system to reward content creators: Brave Rewards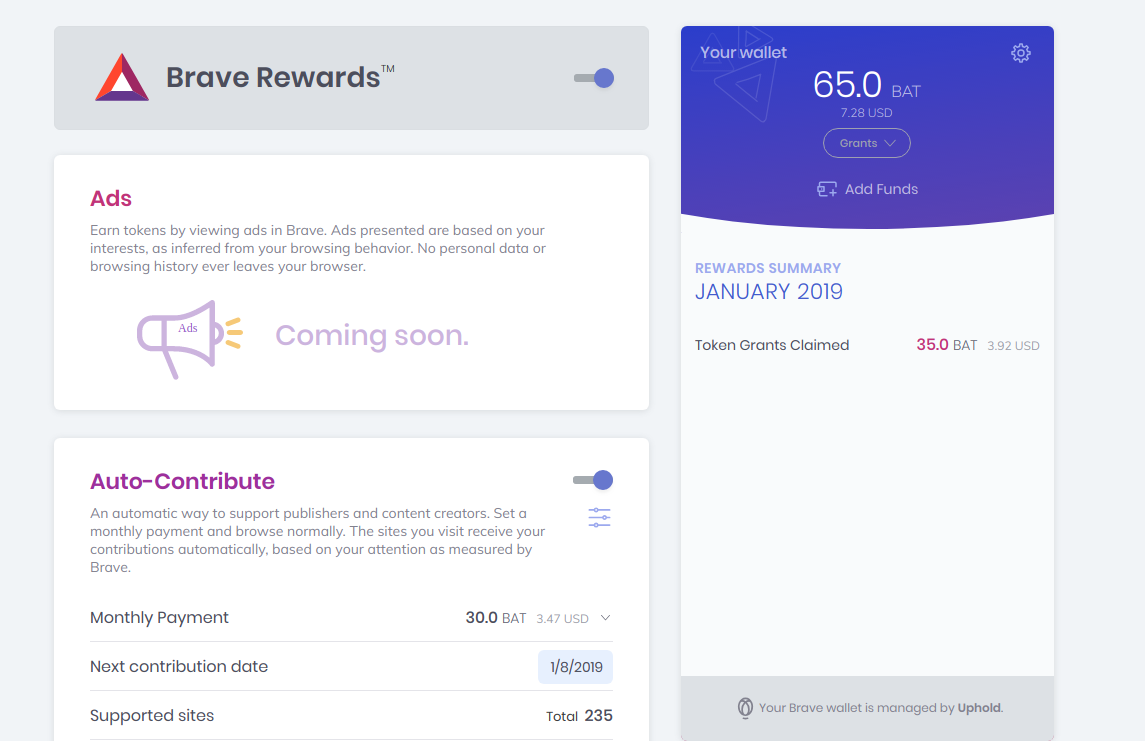 On this page, I can decide how to reward content creators
As with the rest, you have control to activate it or not (and it's not activated by default).
Once activated, Brave will automatically distribute your contributions based on how much time you spend on sites.
Or you can choose directly what sites to tip.
BUT they still keep your history private. It doesn't leave your local computer.
It's easy to verify since this is an open source project.
And, again, it's optional.
Where do these contributions come from?
Brave creates a wallet for you.
You can add funds to it if you want.
Or you can view ads in Brave.
This second option is still in testing mode and only 1000 users have joined the trials:
Brave Launches User Trials for Opt-In Ads That Reward Viewers
Not only is this a way to support your favorite content creators, it's also how Brave intend to make money in the future, by keeping 30% of the gross ad revenue.
I like this system since:
I can choose who I want to reward and support
I'm not implicitly forced to participate
It respects my privacy and anonymity
Give it a try
Once I discovered Brave, I had absolutely no reason to keep using Google Chrome.
It offered the same featured, but I got back a part of my privacy.
Simply give it a try: https://brave.com/
Required fields are marked *